Mo-Mo-Motorius:
In case you missed it – the Daytona 500 was this weekend and ther finish was the closest in the computer-timed era, that began in 1993 – .01 seconds.  Just watch the video and see an incredible final lap, even if turning left a-lot is not your forte.  Denny Hamlin passing three of his own teammates to squeek out a victory over Martin Truex – leaving Joe Gibbs to proclaim this #win over any Superbowl.
Maintaining the Motor theme – the Pistons wore Motor City on their jerseys last night and Anthony Davis motored right by.  Davis dropped the clutch on Detroit to a tune of 59pts and 20 rebounds in the Pelicans 111-106 win, (Davis was an 89 on #FanDuel and 93.5 on #DraftKings).
It was a career high for the "Brow" and also the highest total in the #NBA this season.  Fact: Only two other players have ever scored more than 55pts and grabbed at least 20 boards in a game – Wilt Chamberlain and ShaQ-Fu.
---
NBA
Kobe Bryant is one of the greatest players in NBA history. Five NBA championships, 18 All Star Game appearances, one MVP award. Despite how unbelievably good Kobe is at basketball, no one has ever confused him with being a good teammate or a particularly nice guy. Although he's currently on a Derek Jeter-like retirement tour, it's not so much an admiration for the man himself, but rather an appreciation for the player that Kobe Bryant was.
+ Read: Kobe is a dick and talks about it on HBO
Since he was essentially anointed the next face of the NBA over the past year, Anthony Davis' season has been a little disappointing on a number of levels. His per-game numbers are as good as ever — 24.3 points, 10.1 rebounds, 1.3 steals and 2.2 blocks — but after last year's surprise playoff run, the Pelicans have underperformed due to injuries throughout the roster and an awkward coaching transition from Monty Williams to Alvin Gentry. In the eyes of the casual NBA observer, the next shiny toy to get excited about has already become Timberwolves rookie phenom Karl-Anthony Towns.
+ Read: Anthony Davis joins elite company with 59-point game.
The Donatas Motiejunas trade between the Pistons, Rockets and 76ers isn't the only one held up by a physical.The Cavaliers' trade for Channing Frye still isn't complete, either.
+ Read: Channing Frye trade still not complete, as Cavaliers continue to test former(?) Magic player – ProBasketballTalk
It took a few days to finally happen but the New York Knicks signed Jimmer Fredette to a 10-day contract on Monday. This will be Fredette's third attempt at sticking with an NBA team this season.
+ Read: Knicks make it official, sign Jimmer Fredette to 10-day contract – CBSSports.com
---
MLB
The White Sox announced on Monday that they've added shortstop and former Phillies cornerstone Jimmy Rollins on a minor league contract with an invitation to Major League Spring Training. Rollins is a client of MVP Sports.
+ Read: White Sox Sign Jimmy Rollins To Minors Deal – MLB Trade Rumors
Miami Marlins hitting coach Barry Bonds, baseball's home run king, made it clear "I'm a Hall of Famer" at an introductory news conference Saturday.Bonds, in his familiar No. 25, wore a major league uniform for the first time in nine years this week — aside from a weeklong stint as a guest instructor with the San Francisco Giants two springs ago.
+ Read: MLB Notebook: New Marlins hitting coach Bonds introduced, says 'God knows I'm a Hall of Famer' | West Central Tribune
It came as a shock on Friday when the news broke that longtime former Major Leaguer Tony Phillips had died of an apparent heart attack. A man determined and fit enough to suit up for an independent league team last season is now gone far too soon, at age 56.Phillips stood out for his personality, but even though he enjoyed an 18-year career in the big leagues, his on-field accomplishments flew a bit under the radar. He never made an All-Star team, only once showed up on an MVP ballot and received a single vote in his only year of Hall of Fame eligibility.
+ Read: Phillips most versatile player in MLB history.
---
NFL
Plenty has been said about how the New England Patriots unearthed a gold mine when they selected franchise quarterback Tom Brady in the sixth round of the 2000 draft. Four Super Bowl rings, three Super Bowl MVPs and a supermodel wife — there isn't much more for the future Hall of Famer to accomplish.
+ Read: 12 funny factoids about the 198 players picked ahead of Tom Brady in 2000 | FOX Sports
The NFL Combine has become very similar to the "Winter Meetings" of Major League Baseball over the last decade.The media interviews, workouts and drills are televised on the league's network, but much more happens in Indianapolis during late February. Certainly, it's a showcase for players to demonstrate their physical ability. It's also a time for teams and player representation to come together and continue working on the offseason activities.
+ Read: 7 secrets of the NFL Combine | FOX Sports
---
College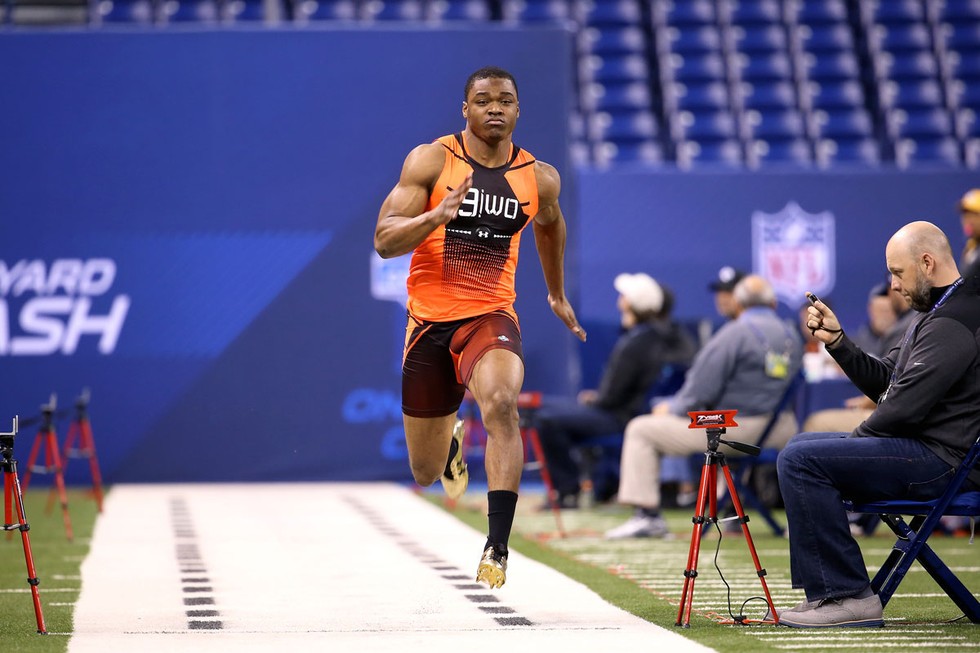 A day before his team played for the national title in Glendale, Ariz., Alabama coach Nick Saban remained fired up about the same topic he had harped on six months earlier at SEC Media Days. After Clemson coach Dabo Swinney answered a reporter's question about some of the Tigers' best underclassmen mulling whether to stay in college or to enter the 2016 NFL draft, Saban chimed in with his own take.
"Could I make a comment about that? Because I'm going to call Dabo after the game, and last year after our game against Ohio State I tried to develop a little energy from college coaches who had players that are in this situation you just asked about, and the NFL moved the draft back. I wish they'd move the declare date back," Saban said. "I wish they'd make a rule that says you can't even give a player what his draft status is from the NFL [draft advisory] committee until they've finished their competition as a college player, so that you don't put them and their family in this situation where there's a big timing issue relative to competition.
+ Read: The case for an underclassmen NFL scouting combine
If there was a weekend to start getting fans excited about March Madness, last week was a good one. There was the Duke-Carolina game that lived up to its hype and a 31-point game from St. Bonaventure sophomore guard Jaylen Adams to lead his team to an upset over No. 13 Dayton.
+ Read: Louisville-Duke game was a great reminder that college basketball is broken | For The Win
---
Overtime
The daily fantasy sports industry is dominated by DraftKings and FanDuel. DraftKings has raised in excess of $500 million since 2012, while FanDuel has brought in over $300 million. The two daily fantasy sports entities lead the way in terms of user acquisition and retention, and they both continue to operate in the State of Florida despite legal concerns regarding same.
+ Read: DraftKings And FanDuel Are Playing With Fire In Florida – Forbes