1.
Johnny Be Gone…
In the latest development in the Johnny Manziel saga, his agent released a statement Friday saying he is cutting ties with the Cleveland Browns quarterback.
"It is with deep regret that, after several emotional and very personal discussions with his family, his doctors and my client himself, I have made the decision to terminate my professional relationship with Johnny Manziel," agent Erik Burkhardt said in a statement.
Clearly there's smoke, but at the very least there is a pattern, and it shows that the rehab-parade was just wishful thinking – a PR stunt.  These allegations could keep him out of the NFL for good and makes Johnny more OJ than Reggie in troubled Heisman winners.  When does the Heisman House make Johnny give back his cement statue, after-all precedent has been set with past discretions.
At least for Manziel he'll be out of football before the evil monster, CTE, get him – so there's that.
Read: Agent cuts ties with Cleveland Browns quarterback Johnny Manziel
2.
Golden Boy:
This almost isn't fair. Nobody deserves an eternal life of greatness regarding all things he touches in sports, but here is John Elway, so charmed that his Denver Broncos are practicing for Super Bowl 50 up the road at Stanford University in Palo Alto.
Guess where Elway starred in college? Uh huh.
"I'll tell you what — the throwback was that I actually had my first wedding anniversary reception where we're staying this time, too, over there at the Santa Clara Marriott," Elway said. "And actually, we had a draft party over there [when the Broncos made the legendary Stanford quarterback the NFL's No. 1 overall pick in 1983], too. We rented a suite over there and watched the draft with a bunch of Stanford guys."
This is the same Elway who played his first football game ever in the sixth grade, and he scored six touchdowns … by halftime….
Read: John Elway is the Broncos' grand pooh-bah.
3.
#SuperBowl50 Drinking Game:
Responsibly sip your drink when…
The cameras flash at kickoff.
Peyton Manning throws a wobbly pass.
CBS shows an actual fan in the crowd.
Phil Simms says the word "elite."
Cam Newton runs for a touchdown.
CBS uses the Pylon Cam.
CBS shows B-roll of the Golden Gate bridge.
Mike Carey is wrong during a replay review.
Jim Nantz clearly uses a phrase he wrote two weeks ago at the end of the game.
Roger Goodell is booed during the trophy presentation.
Sip your drink twice if…
Ted Ginn drops a pass.
The cameras cut to Steph Curry watching from the stands.
Phil Simms says "talking about."
CBS shows B-roll of Lombard Street.
Someone at your Super Bowl party double dips.
You think about how much cooler Beyoncé is than Bruno Mars.
Buy a pair of Google Glass if…
Peyton Manning dabs.
The cameras cut to a fan in the stands wearing Google Glass.
Finish your drink if…
Phil Simms or Jim Nantz say "HGH."
Lady Gaga forgets a word during the national anthem.
You get bingo on our commercial bingo card.
Jay-Z makes a surprise appearance.
Someone at your Super Bowl party dabs.
Run a naked lap if…
Coldplay has a wardrobe malfunction.
Source: Here's Extra Mustard's super special drinking game for Super Bowl 50
4.
The Worst NFL Alumni:
It's Super Bowl week, which means that both ESPN and your local sports talk blowfest will be flooded with even more useless former NFL players than usual. One of the perks of being a Super Bowl champion is that, until the day you die, you get to spend one week a year gallivanting around Radio Row and tricking yourself into believing the world still gives a hoo-haw about you.
This is why Mark Schlereth is way too comfortable talking publicly about the origins of the solar system. No one should listen to Mark Schlereth talk about anything, but winning a Super Bowl often confers a sense of validation upon these men. All that adoration and love you get in the wake of winning a title hardens into a permanent delusion of your own importance. You are now a LIVING LEGEND, and that's how you end up with half these guys thinking they're heads of state.
Read: Which NFL Team Has The Worst Alumni?
5.
My Favorite Trends/Props:
SUPER BOWL AGAINST-THE-SPREAD TRENDS
Carolina -5.5 Denver
— The last time a Super Bowl favorite of at least three points both won and covered was Super Bowl XLI in 2007, when the Colts beat the Bears, 29-17, as seven-point favorites.
— The last 10 teams to score 40 or more points in a playoff game — as the Panthers did against the Cardinals in the NFC championship game — went 1-8-1 ATS in their next game.
— Take that back to 1996, and teams that scored 40-plus points in a playoff game are 4-22 ATS in their next game.
Fun Props to run at your party:
Who will have more?
Stephen Curry three-point field goals made: pick 'em +110
Greg Olsen receptions: pick 'em -130
Who will have more?
Rory McIlroy fourth-round score: +0.5 -110
Emmanuel Sanders receiving yards: -0.5 -110
Will there be a successful two-point conversion?
Yes +330
No -400
Will there be a missed extra point?
Yes +300
No -360
Coin Toss
Heads -102
Tails -102
Will there be a safety?
Yes +550
No -800
---
6.
…and Finally…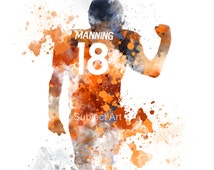 If continuity is king in the NFL, then Denver Broncos quarterback Peyton Manning has reached the league's title game a much different way.
Super Bowl 50 will be the fourth time Manning has been behind center in the NFL's championship game, and Gary Kubiak is the fourth different coach Manning has played for that advanced to the Super Bowl.
"I've enjoyed learning from coach Kubiak this year," Manning said. "Continuity is always a great thing, but when you have a chance to play with some different coaches, you want to take advantage and learn from them. … I've learned something from all of them."