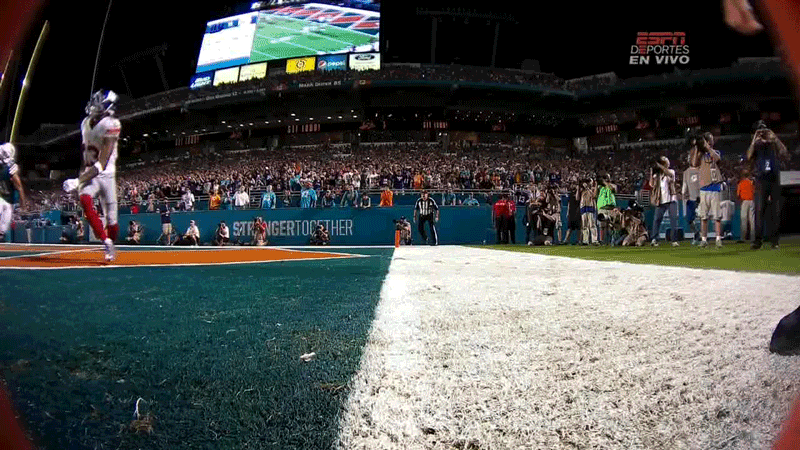 1. C'Mon Man!:
Is this Odell's best catch of the year or was it last week against Washington?  Odell had 2 TD's and 166 yards and the Giants beat the 'Fins to continue a 3-way atop the NFC (L)east.  If you're a Patriots fan you hope kryptonite doesn't make the playoffs – furthermore, if that happens and Eli wins it all – we'll have to hear about a new category of quarterback – Worst Elite QB of all time.  Seriously, Eli is like a box o'chocolates.
+ Too much Manning and Beckham for Dolphins
Eli Manning completed 87 percent of his passes on Monday (27 of 31), including an 84-yard, go-ahead touchdown to Odell Beckham in the Giants win in Miami. That's the highest completion percentage in a regular-season game by a Giants player who threw at least 20 passes, although all Giants fans of a certain age remember Phil Simms completing 88 percent (22 of 25) in the Giants win over the Broncos in Super Bowl XXI.
Manning and Beckham have now connected on three touchdown passes that covered 80 or more yards, the highest total for any duo in Giants history.
2. FanDuel – 2×4's and Milk
Source: NFL Week 14 Retrospectacle: Another Window of Opportunity Closes
Studs
QB Russell Wilson, Seattle Seahawks (32.28 FanDuel points)—His increased production since Marshawn Lynch (hernia) went down probably shouldn't be considered a coincidence. The Seahawks have opened it up and Wilson has responded. His matchup at home vs. the Cleveland Browns in Week 15 looks like a dream, too.
For the second straight week, an #NFL QB can claim to have 5+ TD passes in 2 of the past 3 weeks #FanDuel #CamNewton @DangeRussWilson

— Jesse Lambert (@jceltsp3) December 13, 2015
WR Doug Baldwin, Seattle Seahawks (29.2)—As much as Wilson has gone off post-Lynch, Baldwin has been bonkers post-Jimmy Graham (knee). The Wilson ($8,800)-Baldwin ($7,400) is still relatively cap-friendly, too.
Doug Baldwin has 8 TD catches in his last three games. Before '15, he never caught more than 5 TDs in a single season. #Seahawks #FanDuel

— Matt Musico (@mmusico8) December 13, 2015
RB Isaiah Crowell, Cleveland Browns (27.9)—The true takeaway from this performance for one-week fantasy players is not the value of Crowell ($5,700) in a tough road matchup next week at Seattle. That's minimal. Stacking plays against the lowly San Francisco 49ers is the real lesson here. Hello, Bengals' Hill ($6,000) and Bernard ($5,600), especially with Dalton (thumb) out.
RB Todd Gurley, St. Louis Rams (27.2)—Forget all that rookie wall talk, eh? The breakout running back of the season was a monster in just 16 rushes and one reception against the Detroit Lions. He should be plenty capable for 20-plus touch effort, carrying the Rams against the Tampa Bay Buccaneers on Thursday night.
QB Blake Bortles, Jacksonville Jaguars (25.7)—Most of his Year 2 credit has gone to his receiving corps, but this performance was eye-opening because Allen Robinson ($8,100)managed just one reception for four yards and Bortles still enjoyed a huge day. That matchup at home against the struggling Atlanta Falcons at $7,900 sure looks inviting, particularly with all of his receivers healthy right now.
In addition to setting a team reg season record w/ 50+ pts, the @Jaguars combined for 135.4 #FanDuel pts, their most since (at least) 2011

— Jesse Lambert (@jceltsp3) December 14, 2015
WR Ted Ginn Jr., Carolina Panthers (25.5)—As consistently excellent the Panthers andCam Newton ($9,400) are, the receivers have been tough to figure. Ginn ($6,600) has five touchdown receptions in three games though, and has a matchup looming against the worst pass defense in football coming off a short week, the New York Giants.
WR Tyler Lockett, Seattle Seahawks (25.4)—The rookie has reeled in 13 passes for 194 yards and two touchdowns in his past two games. His $6,000 price, involvement in the offense of late and the re-emergence of Wilson make Lockett an intriguing value play.
QB Ryan Fitzpatrick, New York Jets (24.82)—If you love the run and price of Bortles, but don't like following the sheep, perhaps Fitzy is your alternative for Week 15 at $7,800. Him and his two physical receivers Brandon Marshall ($8,500) and Eric Decker ($7,500)are on a roll.
Ryan Fitzpatrick has thrown for 9 TDs and no INTs since getting his beard under control. All about that mojo. #TENvsNYJ #nyjets

— Matt Musico (@mmusico8) December 13, 2015
RB James Starks, Green Bay Packers (24.3)—The Packers have shown a commitment to the run, which is not surprising this time of year. Starks ($5,800) will remain involved as the receiving back at the Oakland Raiders next week, too.
WR Golden Tate, Detroit Lions (24.0)—If this performance intrigues you, you will want to load up on Tate ($6,900) and Calvin Johnson ($8,000) for Monday night magic at the New Orleans Saints and their woeful secondary.
Golden Tate's 24 #FanDuel pts today are the 2 most of his career – success v #Ramsis common for him as his 3 and 4 best games were v #STL

— Jesse Lambert (@jceltsp3) December 14, 2015
QB Cam Newton, Carolina Panthers (23.0)—He deserves the NFL and fantasy MVP awards this season. He turns water into wine every week with his modest supporting cast. Next week against that Giants secondary might send him over 40 FanDuel points.
QB Marcus Mariota, Tennessee Titans (22.86)—It should be noted he scored up with the NFL Week 14 leaders despite failing to throw a touchdown pass. The run has been an increasingly important part of his game in recent weeks and should keep him productive at $7,300 next Sunday at the New England Patriots—even in a blowout.
TE Jordan Reed, Washington Redskins (22.5)—He was coming off one of his worst performances this season, but this effort proves his importance to the Redskins' attack. Reed ($6,300) should be a red-zone threat against the Buffalo Bills next Sunday, too.
Carolina Panthers Defense (23.0)—The Panthers rebounded from a disappointing effort against the Saints to enjoy their best performance of the season. A matchup against Eli Manning and the error-prone Giants is next, too.
Jacksonville Jaguars Defense (23.0)—They have been difficult to trust, but three of the past four games at home have been very kind to this unit in terms of fantasy production. The struggling Falcons come to town in Week 15, which makes the Jags an interesting play at a mere $4,400.
K Chris Boswell, Pittsburgh Steelers (18.0)—As much as you have to love the productivity of the Steelers offense and their kicker, a matchup against the Denver Broncos' defense looms. Boswell looks like a bad buy at $5,000 for that one.
Duds
QB Jameis Winston, Tampa Bay Buccaneers (13.68)—This wasn't a complete dud, but the expectations against the Saints defense were sky high. Winston goes down as a FanDuel bum for his failing to torch the Saints.
QB Andy Dalton, Cincinnati Bengals (1.36)—It was a promising day against the suspect Steelers secondary that ended in insults and injury. Dalton not only cost you in Week 14, but he is now down for the fantasy season with a fractured thumb (throwing hand).
RB C.J. Spiller, New Orleans Saints (2.4)—This one should go down as a career dis-stink-tion. Spiller had an opportunity with Mark Ingram (shoulder) done for the season. Instead, Spiller took the opportunity to show fantasy just how truly worthless he is. Tim Hightower ($6,300) is the Saints back to consider.
RB Jeremy Hill, Cincinnati Bengals (3.4)—Let's chalk this bad news up as good news. Hill, who shouldn't have been used against the rugged Steelers run defense anyway, is down to $6,000 on the FanDuel price list and the ball should be in his hands early and often going forward.
WR Emmanuel Sanders, Denver Broncos (0.7)—You think Brock Osweiler ($6,700)should be anointed as the Broncos' quarterback for the rest of the season over future Hall of Famer Peyton Manning (foot)? Not so fast. Ask Sanders' fantasy owners.
WR Dez Bryant, Dallas Cowboys (1.4)—Just one catch for nine yards. Ugh. FanDuel probably shouldn't even bother listing him the rest of the season, even if his price is down to $6,900.
WR Calvin Johnson, Detroit Lions (2.1)—As disappointing as one catch for 16 yards is, we cannot wait to load up on Johnson ($8,000) for some Monday night FanDuel magic against the Saints in Week 15.
TE Travis Kelce, Kansas City Chiefs (3.3)—The season opened with so much hope and is concluding with so much fantasy disappointment here. He had as many touchdowns in Week 1 as he has had in the 13 weeks thereafter (two). Yuck!

3. Even Year = Giants ru#Win it All – Again:
Cueto is a pretty good consolation prize for a Giants team that missed out on both David Price and Zack Greinke. He's been one of the best pitchers in the league since 2012, and although he struggled a bit in the second half of last season, $130 million is a good deal for a guy who has the potential to be a true ace.
Source: Giants Sign Johnny Cueto, Make The NL West More Interesting
4. Juice Got Loose, pt.1
Tomorrow in Sports History
 On December 16, 1973, the Buffalo Bills running back Orenthal
James "OJ" Simpson becomes the first player in the National Football League (NFL) to rush for more than 2,000 yards in a single season.
After leading the University of Southern California (USC) Trojans to a Rose Bowl victory and winning the Heisman Trophy, Simpson was drafted by Buffalo as the first pick in the 1969 NFL draft. He struggled for several seasons on weak Buffalo teams but first rushed for more than 1,000 yards in 1972, ending the season with a league-leading 1,251. The following year, he totaled 219 rushing yards against the New England Patriots in the next-to-last game of the season, putting his total at 1,803. On December 16, with the Bills facing the New York Jets in New York's Shea Stadium, Simpson rushed for another 200 yards, for a record-setting total of 2,003.
Source: OJ Simpson rushes record 2,000 yards in a season – Dec 16, 1973
5. Ultimate Value Lineup – Week 13
All we want to do is provide you valuable information at a great price.  We've already helped hundreds of people learn how to make some extra lettuce playing fantasy sports; so let us Teach You How to #win!
Giving you the Perfect Lineup is easy and we tweet it, post it on Facebook and create an entire post about our RESULTS, so……What about if you had the greatest value lineup of all time?  A Lineup that every player chosen had low ownership, way less, and never cost you more than $6k – well my friends this is the Ultimate Value Lineup – culled directly from the numbers and our reports – look for us on twitter when we post the less than 12% lineup and follow along with the value-madness!!!