1.
1991 Your Table Is Ready…
The last time the Lions won at Lambeau, the year was 1991 – The First Gulf War was over before the baseball season started, I've been to parties that lasted longer – Bill Clinton said he wanted to be President – Twins win the World Series – Magic has HIV – There was a shooting at Iowa University that 5 people lost their life – The Cold War officially ended when the Soviet Union dissolved after Gorbachev's resignation – basically a lot of things.  The last time the Lions swept the Packers, was also in '91.  So you begin to wonder about parrelels and destiny for a team that looked to go 0'fer in 2015 and are looking at an outside shot at the playoffs – if……..too many things fall their way.
Finally, the Football Gods have given us a reason to watch the #NFL on #TNF that doesn't require a lineup.  Not that we won't have one with guys playing tonight – but you do not need a lineup to enjoy this one.
Look, it's hard enough to believe the Lions can sweep the Packers, but there is something about this new offense from Jim-Bob Cooter, or the emergence of Ziggy Ansah, or something seems weird about Aaron Rodgers lately, that the Lions DO have a chance at home tonight – either way here is DC*3PO's top 5 for tonight, and make mine nostalgia for a Detroit victory +3:
Guys to watch on #DraftKings for Tonight's game, according to DC*3PO
Aaron Rodgers 

$7,200

– 20.3 – 63%
Matt Stafford 

$6,100

– 18.8 – 68.1%
Calvin Johnson 

$7,600

– 17.4 – 68.1%
Randall Cobb 

$6,600

– 14 – 52.1%
Golden Tate 

$4,800

– 12.4 – 70.4%
---
2.
F.U.E.S.P.N
That is Keenan Reynolds.  The best Navy quarterback since some dodger named Roger won the Heisman, back in '63.  Why should you care? Well for 1) he is the all time rushing-TD leader in the history of college football and 2) He WAS the leading vote-getter in the ESPN/Nissan Fan Poll – but ESPN removed him from the ballot.  Why?  Because, ESPN doesn't show the Army/Navy game – CBS does – and the WorldWide Leader does not want to promote someone they do not feature…see last Heisman rant re: Baker Mayfield.  ESPN has tried to explain it to Deadspin – but let's face it, it's sh*tty politics and smells as bad.  Maybe if he wore a dress he could get some recognition from ESPN – until then you can at least go here: and vote for Keenan to at least be on the FAN poll – just search for "American" under conference, "Navy" under team and then Reynolds.
---
3.
Pistol – ShaQ – Ben
That is Ben Simmons and hopefully he never has to play for the 76ers and will just trade in his amateur Purple+Gold for professional Purple+Gold.  He leads the nation in rebounds per game and just had a 43 pt game – without making a 3.  That's Pistol-Pete territory, who never averaged below 43pts/game in all 3 years he played for the Tigers (no 3pt arc nor shot clock – Insanity).
Oh, and Steph Curry had 28pts last night……in the third quarter.  Even Kobe scored 31 on 10-24 shooting…….just sharing the rock of love.
---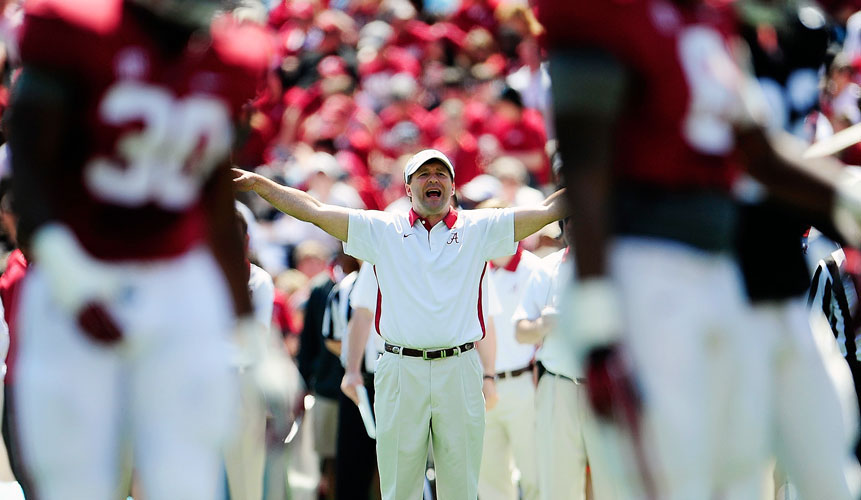 4.
Kirby & Richt 
Both men prove you can go home again – Kirby back to Georgia and Richt back to the U.  Can Kirby bring with him the PROCESS and make Georgia more relevant than they have been?  It's a tall order because, like Les Miles, championships will be what matters at UGA – If in 5yrs there is still no SEC title, then what?  The real issue will be who Kirby takes with him from Alabama and to me it will be enough for Saban to leave 'Bama and get back into the NFL – Colts?
For Richt, it's more about culture building at the U.  He was Jim Kelly's backup when the U was beginning to create its legacy.  For awhile now, Miami has been irrelevant and has no foundation.  Richt is a great coach and the media and people who know him say he's an even better guy.  If he does for Miami, what he did for Athens and can re-fashion that secret sauce, Miami will become important again.
---
5.
The Unionization of Baseball
Marvin Miller advised Curt Flood not to sue. It would end his career, he told him. Even if he won, the court would never award damages. Flood had nothing to gain by taking baseball to court.
"But if we win," Flood replied, "it would help my teammates, wouldn't it? And it would help all the players in both leagues? It would help all of the players coming up in the future?" That, as Miller would later say, was Curt Flood.
Flood was one of a long line of players who worked to bring down the reserve clause. He eventually would lose his case before the Supreme Court, but his actions helped spur changes that would topple the clause within a few years. On April 10, 1976, Andy Messersmith signed as a free agent with Atlanta, and the reserve clause that had bound players indefinitely to their owners for nearly a century finally was defeated……(continue reading)