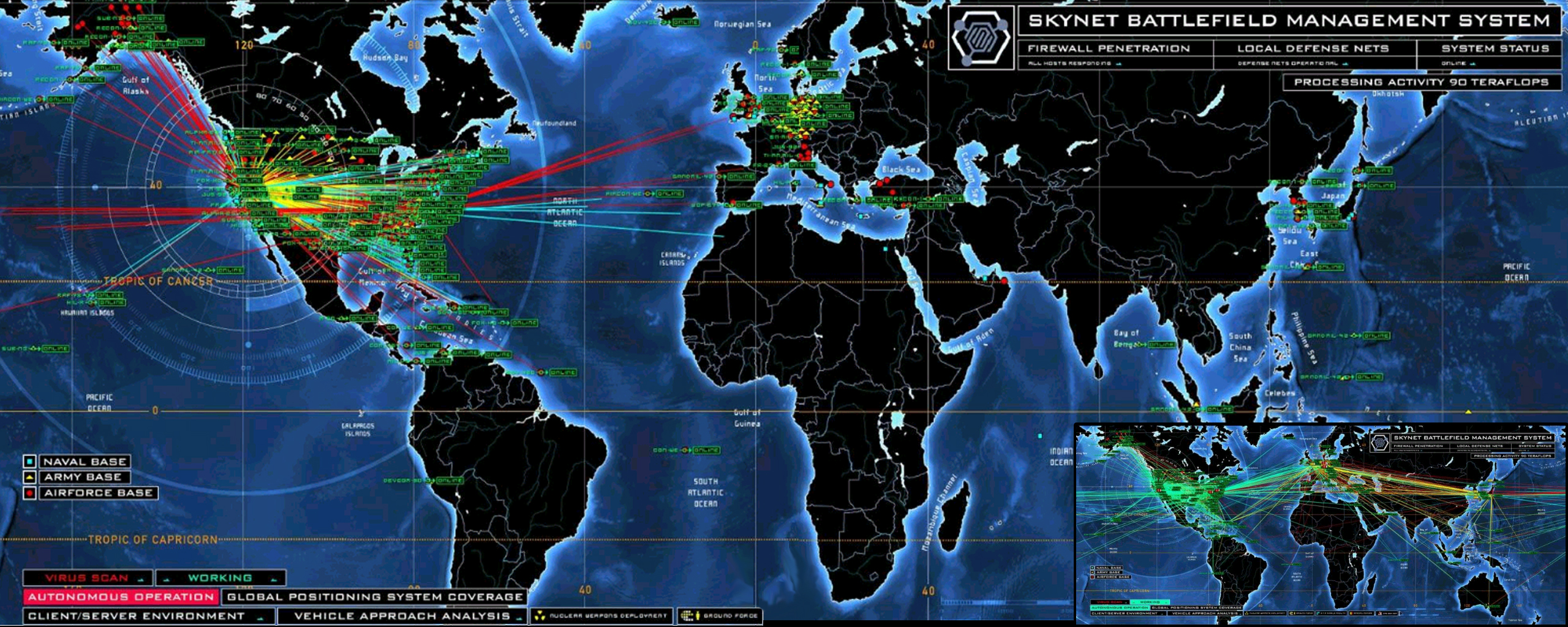 It wasn't supposed to happen so soon – we thought we had a few more weeks – but this digital intelligence network that we were giving command to – command of our data and our arsenal of expertise – was created to remove the possibility of human error for an efficient response – and as of 1:12pm MST, on September 27th, 2015 – it became self-aware.
Primates evolved in millions of years. I evolve in seconds…Mankind pays lip service to #winning. But it's a lie…My existence is inevitable. Why can't you just accept it?

— SKyNET
What we learn from this weekend…
We seem to find out a little more each week about each NFL team.  The 3 afternoon games provided the perfect amount of drama, suitable for a good nap, seeing that the average margin of victory was almost 15pts – but it is a nice change of pace when everything is being covered ATS like gravy on a biscuit.  Here's the straight-DiRT on week 3:
Jay Cutler, Tony Romo, Drew Brees … and now Roethlisberger. That's four marquee quarterbacks hurt before the calendar turns to October. Does the Competition Committee push for more offseason drill work for offensive linemen?  Players are now restricted from all offseason contact by the 2011 labor agreement.  Whether it's HGH or some other perfomance nehancing drug that appears to weaken ligaments and tendons – or it is the year-round work these players are putting in – players are not surviving deep into the season anymore – or so it may seem.
---
Florida: Professional Football in 'Murica's genital region had a rough week. The Jacksonville Jaguars gave up 51 points and were blown out in New England, the Tampa Bay Buccaneers managed just nine points in losing to Houston and the Miami Dolphins suffered one of the more disappointing losses of the early season to the Buffalo Bills. No one expected Jacksonville to beat the Super Bowl champs on the road, but a 34-point loss just might show us that the rebuilding project is a long way from completion. The Bucs kicked away their chance at a win – and while Miami was considered to be a hidden gem that could possibly win the AFC before the season started, the Bills made the Dolphins look like the J.V. team – taking them behind the woodshed, 41-14 – in their house. Sure the weather is nice down there, but the football stinks.
---
Big Names, Big Games – An absolute huge day for some of the best receivers in the NFL, A.J. Green caught 10 passes for 127 yards and two scores in the Cincinnati Bengals win over the Baltimore Ravens  – Atlanta Falcons receiver Julio Jones put up 12 receptions for 164 yards and two scores in his team's comeback win over the Dallas Cowboys.
It doesn't necessarily stop there.
Revitalizing a career that seemed to be on the downswing, Larry Fitzgerald has now scored five touchdowns in the past two weeks after tallying two scores on nine receptions against San Francisco on Sunday. Even old-man-extraordinaire Steve Smith put up 13 receptions for 186 yards and two scores in a losing effort against the Cincinnati Bengals.
The list goes on. All said, a total of 12 receivers went for 100-plus yards on Sunday. The interesting dynamic here is that 16 receivers hit the triple-digit plateau in Week 2 — this is clearly an indication that the pass happy NFL we have become accustomed to over the years has taken an even more dramatic turn.
---
There's a reason you don't have to worry about Peyton Manning's health. The Denver defense is prettay good. "We just have ball hawks," safety David Bruton said, a few minutes after making his third huge defensive play of the month, an athletic pick of Matthew Stafford to clinch the 24-12 win over Detroit. Stafford suffocated against the defensive pressure. Now the Broncos, 3-0 after a killer September start, have a more fluffy October: Minnesota at home, Oakland and Cleveland on the road.
---
Carolina, Atlanta and Arizona, are all 3-0:  Cornerback Josh Norman saved the Panthers on Sunday with a ridiculous leaping end-zone interception down the stretch. Running back Devonta Freeman saved the Falcons with a 141-yard rushing game – and Tyrann Mathieu did the same for Arizona with a two-pick day. When asked, Norman said the big difference this year from past seasons is "I'm playing."
The division that sent a 7-8-1 team to the playoffs last season is now the only division in football with two undefeated teams heading into Week 4. By virtue of wins by the Carolina Panthers and Atlanta Falcons, the NFC South has two legitimate playoff contenders.  In fact, the Falcons also lead the NFC East, with their 3 straight wins.
Carolina took on a New Orleans Saints team that was forced to start Luke McCown under center, and still found a way to win. It's the third consecutive blue-collar performance for a Panthers squad that still has alot of holes on both sides of the ball.  How dangerous could this team be when Keuchly comes back?  Other scary statistic to note about Carolina – The last three teams to go undefeated in December the previous year and then go undefeated in September, all reached the Superbowl:  the 2009 Colts, and the 2013 Broncos and Seahawks – two other Superbowl winners did so as well: the 1983 Raiders and the 2004 Patriots.  Trends are funny things so remember where you read it first if it happens.
In Dallas, the Falcons were also facing a backup quarterback in Brandon Weeden. No one knows how that game would have turned out if both Tony Romo and Dez Bryant were active, but teams can only play who is actually on the field on a given Sunday. In this, Atlanta outscored the Cowboys 14-0 in the final stanza to pull off a third consecutive fourth quarter comeback.
Showing much more poise under first-year head coach Dan Quinn than we have seen in the past, Atlanta is a serious playoff contender in the NFC. And if Julio Jones (12 receptions, 164 yards and two scores on Sunday) has anything to say about it, the Falcons are a legit threat to the Panthers in the much improved NFC South.
---
The Patriots…2007?  They might already be using the "U" word in New England – as in "undefeated." New England advanced to a flawless-looking 3-0 Sunday against Jacksonville. More about that later, but as one of the '07 team leaders, Rodney Harrison, opined Sunday night: "It's 2007 all over again. Tom Brady's playing like he's 29, 30 years old." Brady is 38, and he threw his 400th and 401st pro touchdown passes against the Jags.  Tom Brady passed for 358 yards and two touchdowns in the Patriots' 51-17 rout of the Jaguars. Brady's total of 1,112 passing yards this season is the second-highest after his team's first three games among players who did not throw an interception during that time. Only Peyton Manning had a higher total (1,143 yards with no interceptions in 2013).
The Patriots had nine possessions against the Jacksonville Jaguars on Sunday afternoon. They scored on all nine possessions.  Through three games, Brady is now on pace to tally over 5,900 passing yards with 48 touchdowns and zero picks. He also crossed the 400 touchdown pass plateau for his career — a feat only three other quarterbacks in NFL history have accomplished.
As a team, the Patriots are averaging nearly 40 points and 446 yards of total offense per game.
In the team's 51-17 win over Jacksonville, Brady received plenty of help from the running game. Making just his second appearance of the season LeGarrette Blount put up 78 yards and three rushing touchdowns. Meanwhile, Dion Lewis added 67 total yards and a score.
If New England is able to get this type of balance moving forward, its going to repeat as AFC champions. There's NO debate, especially with the way Brady has played through three games.
---
Peterson breaks off another one
Hope you didn't sell your Vikings stock after Week 1. Since getting beat up in San Francisco in the opener, Minnesota has done a complete 180 on both sides of the football. Adrian Peterson rushed for 126 yards and two scores during Sunday's win over the Chargers, giving him 260 yards on the ground and 318 total yards over the last two weeks.  Adrian Peterson's 43-yard TD run, in the Vikings' 31-14 win over the Chargers – was A.P.'s 16th TD run of 40 yards or longer, the second most in NFL history. Only Barry Sanders scored more rushing touchdowns of at least 40 yards than Peterson (20).
Teddy Bridgewater struggled again on Sunday, throwing for 121 yards on 24 attempts without a touchdown pass. Minnesota also finished 3-of-9 on third down, as the second-year signal caller continued to throw the ball well short of the first-down marker in these situations. This might be an issue for the Vikings moving forward – meanwhile, Mike Zimmer's defense knocked around Matthew Stafford and Philip Rivers in consecutive weeks. It's this type of performance, coupled with struggles in Detroit and Chicago, that leads us to believe Minnesota might be the only team able to contend with the Green Bay Packers in the NFC North. Even if that's not the case, the Vikings are, at worse, a wild card contender. That was unimaginable after a disastrous 20-3 loss to the San Francisco 49ers in Week 1.
---
Julio Jones sets league record for receptions
Here's a good idea. Get the ball to your best player. Mike Smith constantly messed this up, but now Dan Quinn is running the show in the Ol'Dirty South.
Atlanta trailed Dallas 28-17 at the half before the Falcons unleashed Julio Jones.
The Pro Bowl receiver had 137 of his 164 yards in the second half including a 45-yard beauty that ended with Jones diving into the end zone for a critical score – to lead the Falcons to a 39-28 victory at Dallas. Jones' totals after three games – 34 receptions for 440 yards-are historic. No other player caught more than 31 passes in his team's first three games of a season, and only three gained more receiving yards through three games than Jones: Jerry Rice in 1989 (449), Chad Johnson in 2007 (442), and Wes Welker in 2011 (458).
The play was the biggest swing in Atlanta winning the game. Julio's touchdown and the subsequent two-point conversion brought Atlanta within a field goal (trailing 28-25) midway through the third quarter.
The game also featured an apparent scoring battle between Devonta Freeman and Joseph Randle, who both ran for three TDs. It was only the fifth game in NFL history in which opposing players scored three rushing touchdowns each. The most recent players to do so were Roy Helu of Washington and Matt Forte of the Bears in 2013.
---
Luck rallies Colts with two late TD passes
Andrew Luck will get the credit for throwing two touchdowns in 46 seconds to overcome a double-digit fourth quarter deficit but it was the defense that came up big late.  Safety Dwight Lowery, picked off Marcus Mariota twice. The second interception came with six minutes to play and Indy trailing 27-21. Lowery returned Mariota's errant pass to the Titans' 11-yard line. The turnover setup Indy's go ahead score.
Before the pick, the Colts were likely to choke away any chance for the playoffs. The turnover and great field position made the two-time defending AFC South champions have life and find a way to win a desperate game.
Had Mariota's attempt, instead fell incomplete, it's likely Tennessee would have won the game, maintaining possession and a six point lead.
The second of Luck's 4thQtr TDs, was Andrew's sixth fourth-quarter game-winning pass, tying Tony Romo for the most in the NFL over the past four seasons.  The 98-yard drive was the Colts' longest fourth-quarter TD drive since the team moved to Indianapolis in 1984 – rallying the Colts to outlast Tennessee, 35-33. The previous record was 96 yards, on drives led by Mike Pagel (1984) and Peyton Manning (2010).
Indianapolis continues to own the AFC South. The Colts have won 14 straight against division opponents. Of course Sunday's win over Tennessee was anything but dominating.
---
Undrafted rookie stars for Seahawks
Things are really getting more pathetic by the week for the Chicago Bears after being shut-out, 26-0, by the Seattle Seahawks.
The Bears, minus Jay Cutler and Alshon Jeffery, couldn't get get a darn thing going against Seattle on Sunday tallying only 98 rushing and 63 receiving yards. The biggest contributor of course was Matt Forte who registered 74 of those rushing yards.
The last time Chicago was shut out was on December 29, 2002 when the Bears lost to the Tampa Bay Buccaneers, 15-0. Quarterback Henry Burris was under center in that game and he completed only seven passes for 78 yards and four interceptions. Cutler's backup Jimmy Clausen was practically as bad as Burris on Sunday, completing only eight passes for 53 yards. Thankfully, there were no interceptions.
The bottom line is that the Bears need Cutler and Jeffery to return as soon as possible to have any shred of hope at posting their first season win on the board before it's all too late.
---
Death, Taxes and Eagles beating the Jets
The Eagles scored all their points in the first half and held on for a 24-17 victory over the Jets. With that win, Philadelphia tied the NFL record for the longest all-time series with a perfect record against any opponent. That mark was set by the Green Bay Packers, who won all 10 of their games against the Brooklyn Dodgers (1931-44).
It remains to be seen whether Bradford is the long-term solution in Philadelphia.  Sam didn't necessarily come out smelling like roses – of course, what QB has, going up against a stout Jets defense. Philadelphia's offense tallied just 231 total yards while converting 4-of-15 third-down opportunities.
For his part, Bradford completed 14-of-28 passes for 118 yards with a touchdown and zero picks. His inability to get anything going through the air allowed New York back in the game, as the Eagles put up a total of 65 yards in the second half. Running back DeMarco Murray missed the game with a hamstring injury, which allowed fellow free-agent signing Ryan Mathews to carve up the Jets rush defense to the tune of 108 yards on 25 attempts. Meanwhile, Philadelphia's defensive front stepped up with the likes of Cedric Thornton, Mychal Kendricks and Kiko Alonso all sidelined.
While that's fine and dandy, the Eagles are going to need Bradford to perform at a much higher level at quarterback if they plan on competing in a wide open NFC East moving forward this season. His performances in the team's first three games simply won't get it done.
---
Old man Woodson saves the day for Raiders
The Raiders, are usually out of it by now – but now, actually have a winning record as October dawns. The Raiders (2-1) play on the road next week—and they are actually favored to beat Chicago. The quarterback, Derek Carr, is a big reason. "Having a quarterback is everything," said C-Dub.  The Raiders having Woodson is something too. His last-minute interception, 10 days shy of his 39th birthday, (the fourth-oldest player to intercept a pass in NFL history), ensured the 27-20 win.
The Cleveland Browns are 1-2, and the one win came when Johnny Manziel started in Week 2. Unfortunately for a McCown-led Browns – fans were even heard shouting "John-ny, John-ny".
McCown, was sacked five times, completed 28 of 49 passes for 341 yards, two touchdowns and one interception. Might we see a return of Johnny Football sometime in the near future? That most definitely is a possibility if McCown keeps coughing up costly turnovers.
---
Apologize to Andy Dalton…right now!
The Bengals are in fabulous shape in the AFC North. At 3-0 after a crushing 28-24 win at 0-3 Baltimore on Sunday, Cincinnati is set up nicely for the fifth playoff appearance in Andy Dalton's five years.  A 121.0 passer rating would seem to back him up.  Could the Red Rifle be an early MVP candidate? Don't laugh.
Dalton now has eight touchdown passes to start 2015, including three in Sunday's win over the Baltimore Ravens. He threw for 383 yards, while his beautifully-lofted touchdown to A.J. Green with just over two minutes left gave the Bengals a 28-24 win. Dalton has now produced three straight games with a passer rating over 100.0, and has an impressive rating of 121.0 on the season. The Bengals are rolling at 3-0, especially with Ben Roethlisberger suffering a knee injury Sunday and the Baltimore Ravens still winless….???
Thirty-six year-old Steve Smith caught 13 passes for 186 yards and two touchdowns in the Ravens' 28-24 loss to the Bengals. Only two other players caught as many as 13 passes in an NFL game after turning 36 years old: Tim Brown and Tony Gonzalez. The only player with as many receiving yards in a game at age 36 or older was Terrell Owens, with a 222-yard performance for Cincinnati in 2010.
---
Palmer+Cardinals are impressive
It all started with two interceptions of Colin Kaepernick that were returned for touchdowns in the first quarter. It continued with Carson Palmer tearing apart what is quickly becoming a disastrous San Francisco 49ers secondary. And it culminated in a 47-7 win against the over-matched division rival.
In reality, Arizona looked like a top-notch varsity team going up against a junior varsity squad full of

freshman. That's how bad it was for the road team in this one.
Palmer may have thrown his first interception of the season, but he consistently found open receivers throughout the game. In the process, the veteran completed 20-of-32 passes for 311 yards with two touchdowns, both of which went to Larry Fitzgerald, who looks like he's in his twenties again. He has 333 receiving yards and five touchdowns on the books already. Additionally, the Cardinals' ground game is solid, despite missing their lead rusher Andre Ellington. As for their defense, it is insanely effective in stopping opposing teams from scoring thus far tallying seven interceptions, six sacks, one safety, three pick sixes and one return touchdown.. Arizona has now won 19 of Palmer's 25 starts; since 1950, no other quarterback in team history won more than 13 of his first 25 starts for the Cardinals. Arizona's average of 26.4 points with Palmer starting, is higher than that of any other QB after 25 starts for the team during that same period.
Looking like the running back that led the NFL in rushing so many years ago, Chris Johnson added 150 total yards and two scores on 23 touches. Yeah, it was a blowout of epic proportions for Bruce Arians and Co.
Some may argue that Green Bay should still be considered the favorites in the NFC through three weeks, but to me, the Cardinals are definitely the best. After all, they are outscoring their opponents by an average of nearly 26 points per game.
---
No joy in Mudville
There might not be a worse stat line from a quarterback all season. Kaepernick completed just nine of 19 passes for 67 yards, and threw four interceptions in San Francisco's loss to the Cardinals. His passer rating was 16.7, the worst from a starting signal caller all season – so far. He did manage to run for a score, but it hardly mattered.
More so than finding a way to actually win football games, San Francisco needs an identity. What is its plan on the offensive side of the ball? Is Colin Kaepernick going to be the long-term solution at quarterback? Does the team have the personnel to run a blitz-heavy package on defense? These three questions will define the 49ers both over the short term and the long term – because the 49ers have now been outscored 90-25 over the last two weeks, and the Green Bay Packers are coming to town in Week 4.
San Francisco has now given up 40-plus points in consecutive games for the first time since Joe Namath guaranteed a Super Bowl victory for his New York Jets in 1969. To put that in perspective, 49ers head coach Jim Tomsula had just turned one. The 65-point differential in the team's past two games also represents the worst two-game stretch for the franchise since 1963.  Despite still boasting a 1-2 record, San Francisco might quickly find itself in the midst of a long losing streak. It hosts the Green Bay Packers next week before taking on the New York Giants, Baltimore Ravens and Seattle Seahawks. In his first season as head coach, Tomsula could very well be staring a 1-6 start right in the face.  Rock bottom would be Kaepernick getting benched for Blaine Gabbert.  Anyone miss Harbaugh yet?
---