One time, I bet the director of a local country club $1,000 that he would slice into the woods. In a very snobby tone, he informed me that gambling was not permitted at their establishment. He followed that up by declaring that he never sliced. Predictably , he then sliced into the woods, which clearly upset him. Despite my amusement, I informed him that he could pay me the money some other time. He then informed me that he did not in fact owe me the sum of money I proposed in my bet.  So I went off and played my round – then this happened.
So get the 6 golfers you think will have a chance to win America's National Professional Tournament, and secure YOUR chance at winning a $1,000,000, playing Draft Kings' FANTASY GOLF MILLIONAIRE MAKER – starting Thursday.  Here are some guys on the "value-meal" side of things:
Danny Willet

Robert Streb

Tommy Fleetwood

Ben Martin

Retief Goosen

Erik Compton
---
LeBron James scored 40 points as part of his triple-double in the Cavs' loss (14 rebounds, 11 assists). Only three other players scored 40 points in a playoff triple-double: Oscar Robertson (twice in 1963), Jerry West (1969), and Charles Barkley(1993). West was the only player other than James to do so in an NBA Finals, famously doing so with 42 points with 13 rebounds and 12 assists in a Game 7 loss to the Celtics.
James is the first player to produce two triple-doubles with 30 or more points in one Finals series. And including a 32-point triple-double with the Heat in the 2013 Finals, he now has three triple-doubles with 30-plus points in Finals competition, matching the total for all other players in the shot-clock era. (West, James Worthy, and Barkley had one each.)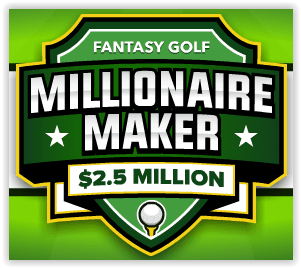 James has been responsible for the last six triple-doubles in NBA Finals games. That ties the record set by Magic Johnson, who turned in six consecutive Finals triple-doubles from 1980 to 1985.
Stephen Curry scored 17 of his team-high 37 points in the fourth quarter of the Warriors' 104-91 win over the Cavaliers in Game 5 of the NBA Finals. That matched the highest fourth-quarter output in any Finals game over the last 40 years. The other players with a 17-point fourth quarter during that time all did so in this century: Shaquille O'Neal (2000), Dwyane Wade (2006), and Kevin Durant andRussell Westbrook (both in 2012).
---
Cubs go walking with Castro on 2 straight nights
Starlin Castro's single in the bottom of the 11th gave the Cubs a 2-1 win over the Reds on Sunday night after Castro singled in the ninth inning for a 4-3 victory on Saturday. Castro was the first player since 2011 to deliver walkoff RBIs in consecutive team games. The last player to do so was Jacoby Ellsbury for the Red Sox. Even better for the historians out there, the last Cubs player to do so was Ron Santo in May 1966 and Santo did it in style with a pair of walkoff homers.
Scherzer is Ryan-like in his masterpiece
Max Scherzer struck out 16 batters and allowed only one hit-a broken-bat single byCarlos Gomez in the seventh inning-as the Nationals defeated the Brewers, 4-0. If you never saw Nolan Ryan pitch, Scherzer's outing on Sunday was reminiscent of a signature Ryan performance.
In 1972, Ryan became the first pitcher in modern major-league history with more than 15 strikeouts in a game in which he allowed no more than one hit. He did that three more times-in 1973, 1990, and 1991. Scherzer was only the seventh pitcher since Ryan to compile such a game, and none of them did it more than once. The others were Kerry Wood(1998), Pedro Martinez (1999), Randy Johnson (2001), Curt Schilling (2002), Brandon Morrow(2010), and Corey Kluber (last month).
Pirates & Phillies reprise their series-for-the-ages from 57 years ago
Josh Harrison drove in the game's only run with a single in the 11th inning as the Pirates defeated the Phillies, 1-0, on Sunday. Pittsburgh topped Philadelphia by the same score in 13 innings on Friday night. Prior to this series, the Pirates had faced the Phillies 2,266 times, and only six of those games were scoreless through 10 innings.
But here's an amazing kicker: The last major-league series in which two games reached the 11th inning with the score 0-0 was also played at Pittsburgh, and Philadelphia was the visiting team. That was in 1958 and the games were played at Forbes Field; as they did this weekend, the Pirates won both games. There were no relief pitchers used in either of the games: Ron Kline defeated Robin Roberts in 12 innings on May 9; Bob Porterfield, making his debut for the Bucs, pitched an eight-hit shutout to top Curt Simmons on May 11.
Cabrera steals a win from Sale
Asdrubal Cabrera's two-run seventh-inning home run gave the Rays a 2-1 win over the White Sox. It was the latest go-ahead home run off Chris Sale in the last three seasons, and it marked the first time this season that Sale failed to win a game in which the Sox staked him to a lead (6-0 prior to Sunday). The only starting pitchers to be given a lead at least six times this season and win every one of those games are Gerrit Cole (9-0), Carlos Carrasco (7-0), and Michael Pineda (7-0).
Sale sets Sox strikeout mark
Chris Sale did achieve one noteworthy milestone on Sunday: With 12 strikeouts, he raised his total to 51 over his last four starts, resetting his own team record in the process. No other active pitcher has ever fanned more than 50 batters over a span of four consecutive appearances; the last pitcher to do so was Randy Johnson in 2004.
Prior to the 2013 season, only two White Sox pitchers struck out even 40 batters over four games: Juan Pizarro (40 in 1961) and Javier Vazquez in 2007 (42). Sale has done it in each of the last three seasons.
What's better than triple-double? How about a triple-triple.
Eduardo Nunez, Shane Robinson, and Eduardo Escobar all tripled in the sixth inning for the Twins on Sunday. And if that doesn't seem unusual enough for you consider this: Minnesota scored only one run in the inning, with Robinson getting picked off and Escobar getting stranded.
It was the first time since the Washington Senators moved to Minnesota in 1961 that the Twins had three triples in one inning. And it was the first instance in the expansion era of a team scoring only once despite three triples in an inning. The other 20 teams to do so averaged 4.6 runs in those innings.