June 18th begins America's Championship in Golf, in Tacoma at Chambers Bay.  It also features Draft Kings and your chance at $1,000,000 with their FANTASY GOLF MILLIONAIRE MAKER.  But let's remember the man who made Golf important in this country – Francis Ouimet.  In 1913, he was the original Cinderella story.  Robert Watson, (President of the USGA) asked if he would play in the national professional championship, which had been postponed to mid-September from its original June dates to allow for the participation of British golfers Harry Vardon and Ted Ray.  Vardon won America's national professional championship in 1900 and our championship five times to that point; Ray also won the America's national professional championship in 1912. The event was played at the course Ouimet knew best, The Country Club in Brookline, Massachusetts. Ouimet originally declined to play, having just returned from an absence from work to play in the National Amateur. His participation in the Open was soon arranged, however, with the cooperation of his employer.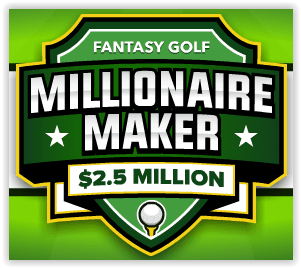 It was Ouimet's first appearance in the championship. After 72 holes of play finished in a three-way tie, Ouimet, Vardon, and Ray went on to an 18-hole playoff the next day in rainy conditions, won by Ouimet. His victory was widely hailed as a stunning upset over the strongly favored British, who were regarded as the top two golfers in the world. He was the first amateur to win America's national professional championship, the biggest crowds ever seen in American golf followed the playoff, and his achievement was front-page news across the country.
Ouimet's success is credited for bringing golf into the American sporting mainstream. Before his win over Vardon and Ray, golf was dominated by British players. In America, the sport was restricted to players with access to private facilities. There were very few public courses (the first, Van Cortlandt Golf Course in The Bronx borough of New York City, opened in 1895). Ten years after his 1913 victory, the number of American players had tripled and many new courses had been built, including numerous public ones.
It was not without controversy.  Ouimet never turned professional; he wished to remain an amateur for his whole career, as he decided before his success that he wanted to work in the world of business. In 1916, however, the USGA, in one of the most controversial decisions in their history, stripped Ouimet of his amateur status. Its reasoning was that he was using his celebrity to aid his own sporting goods business and was therefore making a living from golf. This was at the time when caddies were not allowed to continue caddying after they reached the age of 16, unless they declared themselves professionals. The decision was greeted with uproar from Ouimet's fellow golfers. In 1918, Ouimet enlisted in the U.S. Army and rose to the rank of lieutenant. After the war, the USGA quietly reinstated his amateur status. Ouimet did not bear a grudge against the USGA and served on several committees. He was also a golf member of Charles River Country Club in Newton Centre, and was a member of the Woodland Golf Club of Auburndale.
Ouimet won his second U.S. Amateur in 1931. During the 1920s, he lost several close matches to Bobby Jones, who dominated amateur golf for that decade.
So pick 6 golfers and follow along as they play Chambers Bay.  You cannot win $1,000,000 if you don't play – hurry and enter, because it fills up fast!  Sign up here, or click any one of the pictures to enter – here are some Low Ownership guys with potential, to consider – and remember to never take the guy who won a tournament before a Major:
Adam Scott
Henrik Stenson
Martin Kaymer
Jimmy Walker