NHL
Two Game 7s in the NHL Conference Finals
The Blackhawks forced a decisive seventh game in the Western Conference Final with their 5-2 win over the Ducks in Game 6 on Wednesday, after the Rangers did the same in the Eastern Conference Final with their Game 6 victory over the Lightning on Tuesday. This will be the third time in NHL history that both Semi-Final or Conference Final series in one playoff year went seven games, It happened first in 1964, when Toronto beat Montreal and Detroit topped Chicago in seven-game Semi-Finals, and again in 2000 when New Jersey edged Philadelphia and Dallas got by Colorado in the Conference Finals.
Keith notches three assists in the second period
Duncan Keith assisted on all three of the Blackhawks' second-period goals in Game 6 of the Western Conference Final. Keith is the fourth player in Blackhawks history to register three assists in one period of a playoff game. The other Chicago players to do that are Pat Stapleton in 1973 (Game 1 of the Stanly Cup Final at Montreal, first period), Chris Chelios in 1992 (Game 2 of Conference Final vs. Edmonton, third period) and Patrick Kane in 2014 (Game 5 of Conference Final vs. Los Angeles, first period). Kane was the last player on any NHL team to accomplish that feat before Keith.
---
NBA
40 year Drought is over
Stephen Curry registered 26 points, eight rebounds, six assists and five steals in the Warriors' series clinching win over the Rockets on Wednesday night. The only other players to produce at least 25 points, five rebounds, five assists and five steals in a playoff series clinching win are Michael Jordan (1990 vs. Philadelphia),Hersey Hawkins (1991 vs. Milwaukee) and Scottie Pippen (1991 vs. the Lakers).
Both NBA Conference Finals end in five or less
The Warriors ended the Western Conference Final series in five games with a win over the Rockets on Wednesday night, a day after the Cavaliers completed a sweep of the Eastern Conference Finals with a victory over the Hawks. This marks only the second time in the last 29 years that both NBA Conference Finals series ended in five or fewer games. The only other time that happened over that span was in 2011.
---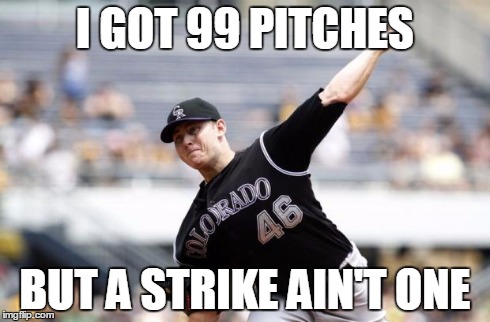 MLB
Thor and the Mets
Noah Syndergaard did not allow a run while pitching one out into the eighth inning and had a big day at the plate going 3-for-3 with a home run in the Mets' 7-0 blanking of the Phillies on Wednesday afternoon. The only other rookies to hurl at least seven shutout innings while lashing out three or more hits including a home run are Colorado's Jason Jennings, who pitched a shutout and had three hits and a homer against the Mets on August 23, 2001 and the Dodgers' Larry Sherry, who did not allow a run over 8.2 innings and recorded three hits and a long ball against the Cardinals on August 15, 1959.
The Yankee nightmare continues as A-Rod passes Gehrig…..and Thome
Alex Rodriguez hit a go-ahead three-run home run in the fourth inning in the Yankees' 4-2 win over the Royals on Wednesday afternoon. Rodriguez's blast, the 50th of his career against Kansas City, not only allowed him to break Lou Gehrig's American League record for career RBIs, it also set the mark for most career home runs hit against the Royals, a record he shared with Jim Thome entering Wednesday's action.
Cruz goes the dynamite
Nelson Cruz broke a scoreless tie with a two-out, three-run home run in the top of the ninth inning in Seattle's 3-0 win over the Rays in Tampa on Wednesday afternoon. Cruz became only the second player in Mariners' history to break a scoreless with a two-out home run in the ninth inning or later, joining Logan Morrison who went deep with two out and two-men on in the top of the ninth against the Angels in a 3-1 Seattle win on September 18, 2014.
Pirate pitching stifle another opponent
The Pirates defeated the Marlins by a score of 5-2 on Wednesday extending their winning streak to six games. Pittsburgh has allowed two or fewer runs in each of the six wins during its streak. The only other time the Pirates have won six consecutive games, while allowing two or fewer runs in each game, over the last 38 seasons was in 1992, when Pittsburgh had a nine-game streak of that kind.
Kipnis loves batting first
Jason Kipnis went 3-for-5 in the Indians' 12-3 win over the Rangers on Wednesday afternoon. It's the eighth time that Kipnis has had three hits in a game in this month. Prior to Kipnis, the last Indians player to record at least eight three-hit games in a calendar month was Kenny Lofton, who had eight in August of 1995. It is also the highest total in a calendar month by a second baseman since San Francisco's Jeff Kent had eight games with at least three hits in June 2002.
LaRoche in extra innings
Adam LaRoche singled in the go-ahead run in the top of the 10th inning leading the White Sox to a 5-3 win over the Blue Jays on Wednesday afternoon. LaRoche's 855 career RBIs ranks 20th among active major league players, but his 26 RBIs in extra-innings are tied with Carlos Beltran for the fifth most among current players behind Albert Pujols (35), Alex Rodriguez (33), Ryan Howard (29) and Matt Kemp(27).
Another Arenado
Nolan Arenado drove in three runs in the Rockies' 6-4 win over the Reds on Wednesday afternoon. It's the sixth time that Arenado has had at least three RBIs in a game this season, tied with Paul Goldschmidt for the major-league lead in that category. Prior to this season, Arenado drove in at least three runs in a game only five times in the 244 major-league games he had played in during his career.
Panik at the Disco
Joe Panik hit a two-run home run in the fifth inning giving the Giants a 2-1 lead in a game they would go on to win 3-1 on Wednesday afternoon. It's the first time Panik had multiple RBIs in a game this season. He entered Wednesday's action with the most games played (44) among players that did not have a multiple-RBI game this season.
Finally Hicks
Aaron Hicks hit a two-run home run in the fourth inning in the Twins' 6-4 win over the Red Sox on Wednesday afternoon. Hicks entered the contest on a streak of 71 consecutive plate appearances without driving in a run, which was the third longest current streak for any major-league position player entering Wednesday's action, behind Mike Baxter (103) and Coco Crisp (72).
A's struggle in close game again at home
The A's dropped a 3-2 decision to the Tigers in Oakland on Wednesday afternoon. Oakland has now lost each of its last 12 home games that were decided by one run dating back to last season. It's the longest such streak since 1894, when the Cubs had a 12-game streak of that kind and the National League Louisville club (spanning 1893-1894) had a 13-game streak.
Scherzer loves the Nat'l League
Max Scherzer hurled seven shutout innings and struck out 13 in the Nationals' 3-0 win over the Cubs at Wrigley Field on Wednesday. The only other visiting pitchers to not allow a run while registering at least 13 strikeouts at Wrigley Field are Cincinnati's Ewell Blackwell (1948), the Dodgers' Sandy Koufax (1961), Cincinnati's Jim Maloney (1963), Atlanta's John Smoltz (1996), San Francisco's Jason Schmidt(2004) and Milwaukee's Mike Fiers (2014).
Heyward homers
Jason Heyward led off the bottom of the ninth inning with a game-tying home run and the Cardinals scored another run later in the inning to defeat the Diamondbacks on Wednesday night. It was Heyward's 89th career home run but only the third of which came in the ninth inning or later with his team trailing and either tied the game or put his team ahead. The only other times he did that were on April 20, 2010 and August 17, 2013.