1. Love lost between two teams?…
Movies have sure lied to us over the years about what to do with a dislocated shoulder – I always thought that you just slammed it back in and resumed ninja-chopping bad-guys – apparently for Kevin Love, it doesn't work like that and I demand an investigation.
If you witnessed this game from the grassy knoll, then you saw what was at least, white-on-white-violence of a nonsense play from Kelly Olynyk in the first quarter – to, at worst, a full blown conspiracy with intent to dislocate – judge for yourself.  Intent seems to be the word the Cavaliers are using as Jae Crowder seemed to take the brunt of Cleveland's backlash.  First, by JR Smith exhibiting a flagrant backhand that saw him ejected – then, secondly, Perkins giving him a cross-check – not ejected.  Olynyk owes that dude some beers for all that abuse – since he was held out of the game until the 4th, to avoid personal retaliation.
So for Cleveland their first series sweep is, more bitter than sweet, it's bittersweet.  JR Smith is lost to a one-game suspension, and Kevin Love, who clearly never watched any Lethal Weapon movies, could be out two weeks.  That could be a huge difference if the Cavaliers have to face the Bulls before their trip to the Eastern Conference Finals – they will.  But before everyone got a trophy for participating, the NBA was a lot tougher – Hollywood never lied to us then and our basketball players were really given something to cry about – just ask Michael Jordan when he played Boston, New York, Detroit, etc…
---
2. To be the champ, you got to BEAT the Champ…
When you're down to the defending champions and YOU NEED a "W", you can't just turn to anyone.  You got to find the guy on your bench you know, someone who has been thru it, WITH YOU, the highs AND the lows.  It's time we make way and give the coaches' kid the respect they deserve.  Thank You, Austin Rivers!  Thank you for your ability to play horribly for three years to finally getting a chance to play horribly on a good team that your Dad happens to coach – the odds were against you, but you pulled it off, somehow.
Austin saved his best game of his career to save the Clippers and tie the series with the Spurs.  In 17 minutes, Austin Rivers scored 16 points off the bench from a team that has none, to help them win, 114-105.  It is not often you say, out-loud, that Austin Rivers was the third best guard on the floor and you may never say it again.  Austin only missed one shot and it might be unfair to expect this level of performance – but if you are a fan of variance then, then this is your poster child and to him we salute you, under-achiever.
---
This is a matchup that was hampered by injuries going in – the Trail Blazers without Wes Matthews and Arron Afflalo was out for two games – seems to be getting worse. The Grizzlies lost point guard Mike Conley in the third quarter after he took an elbow to the face from C.J. McCollum.
Other people that have seen time on the M*A*S*H* list include Portland backup center Chris Kaman and Memphis backup point guard Beno Udrih.  Injuries may mean more to these teams, than any other in the conference – because it appears that Memphis and Portland pushed in all their chips in the beginning of the season to make a deep run in the playoffs – only to be blown up, for falling short.
Marc Gasol, LaMarcus Aldridge and Jeff Green all have options to become free agents at the end and so the question begins with Aldridge.  Does he leave Portland because of an early exit sweep?  Does Gasol come back?  Next up for the Grizz would be the Warriors and they'll need Conley healthy to have any chance.  At full strength this matchup, could have been a great one – instead it is  just another chapter of two teams that are good, but have yet to find whatever it is, to take that next step and time is running out for both.
---
4. So you're telling me there's a chance…
Is this the start of a series or just delaying the inevitable?  Last night the Mavericks chose to play this lineup for 18 minutes: JJ Barea, Al-Farouq Aminu, Monta Ellis, Tyson Chandler and Dirk and it paid off.  Of course, it doesn't hurt that Dwight Howard couldn't hit water if he fell out of a boat, going 3-13 from the line.
Finally it looked like the Mavericks were the hungrier team, doing the little things that limited the Rockets' advantage from the bench.  So we have to ask ourselves – is this the Rockets taking a game off to clinch it at home, or a trend that extends?  The last thing the Rockets want is Dallas to have hope – we'll know within the first 5 minutes, if this series is over and all hope is lost for Dallas.
---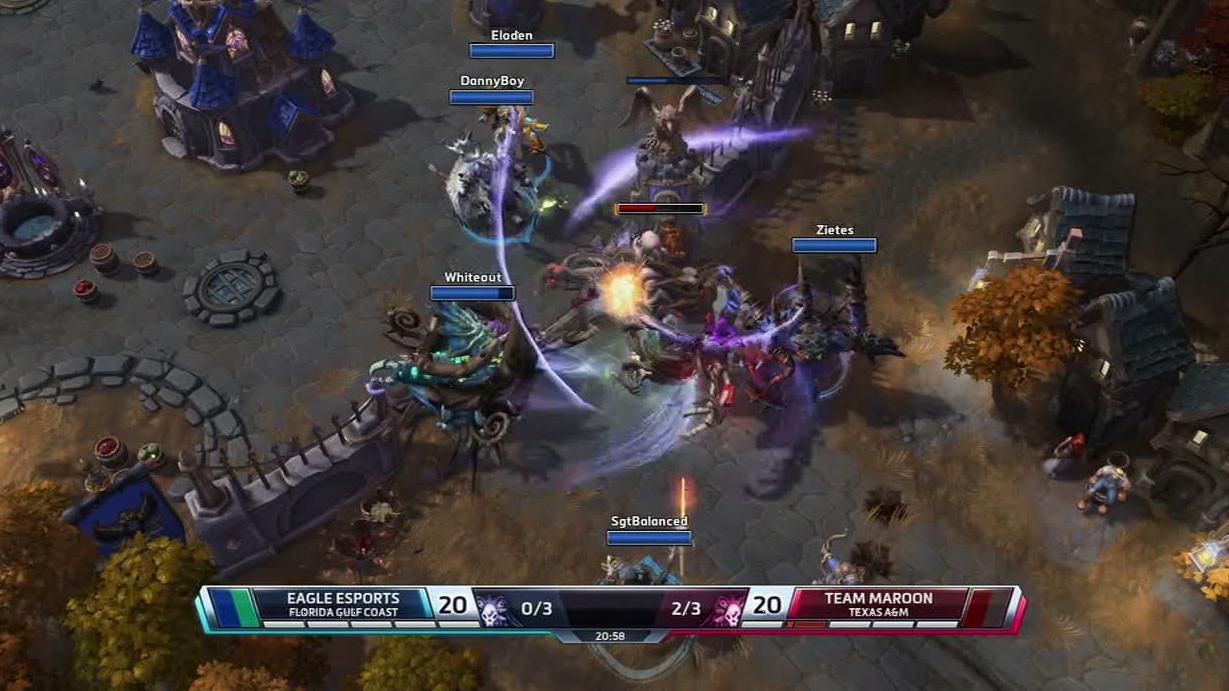 5. Heroes of the Dorm
This is ESPN's Sharknado!  If you just so happened to watch ESPN 2 last night, this is what you saw.  You were watching people play a video game, that is not even out yet, for a chance to win free tuition for the rest of your time in school – as long as you aren't Tommy Boy.  This Multi-Online-Battle-Arena also had announcers and as you also might expect also had a reaction – all over the Twitter.
Now in case you forgot, ESPN stands for Entertainment and Sports Programming Network and for a network that has provided you quality programming like: watching guys play poker, watching guys eat lots of hot dogs, or watching guys play scrabble, then how is this not the next step of evolution?  It's the First Letter!  Some people whined that this is the cause of 'Murica's obesity problem, playing video games – like sitting on your a$$ watching sports somehow contributes less?  Think of it more like the evolution of competitive chess.
I think the problem is not so much the nerd-fiefdom – the war is over, geeks have won – it's for a game no one knows about and isn't out yet (June 2nd) – making it a brilliant marketing ploy on a night that no one watches ESPN 2 anyway – check the numbers.  If they had made it Halo, Call of Duty or Mario Kart -you likely would have had more of a positive response.  In a world where the biggest movies are from comic books, should we not be surprised it has taken this long to get video games on TV?  Everywhere else but here, these shows are huge hits – it makes sense for ESPN 2 to promote this, and break twitter – just like Sharknado did – it's so bad it's good – BTW, ASU's Dream Team suffers brutal loss to California in Heroes of the Dorm championship